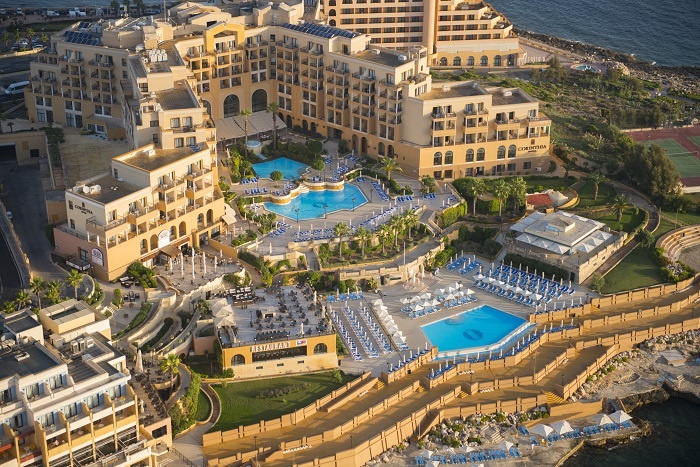 Among the rocky shores of Malta and surrounded by the Mediterranean Sea is the Corinthia St George's Bay Hotel.  QP's Interior Design team have been entrusted with the complete renovation of a number of suites.
The new design intends to envelop and immerse the guest in an atmosphere of comfort and relaxation yet. QP's Interior designer's goal was to blend the calmness of the island's lifestyle and the elevated elegance that is expected from five-star hospitality product such as the Corinthia Hotels.
Inspired by the warm Maltese sun and the limestone-lined streets, as well as the blue hues of the Mediterranean Sea, the design of the refurbished rooms oozes the peacefulness, and Mediterranean warmth one expects to find on an island.  The simple wall panelling, in both lounge and sleeping quarters, lends itself to creating the coastal feel, together with the seafoam blues used in the soft furnishings while the warm hues of the wood plank flooring, together with the accents of sunny golds bring warmth to the rooms.
Renovating the suites @ Corinthia St George's Bay in such a short time frame, during the European shutdown was extremely challenging, yet it brought the best out of the QP team: efficiency, speedy problem solving, and strong teamwork; all while maintaining the highest quality of the design standard established by the Corinthia Brand.
The project was not only delivered on time but has also exceeded the client's expectations!