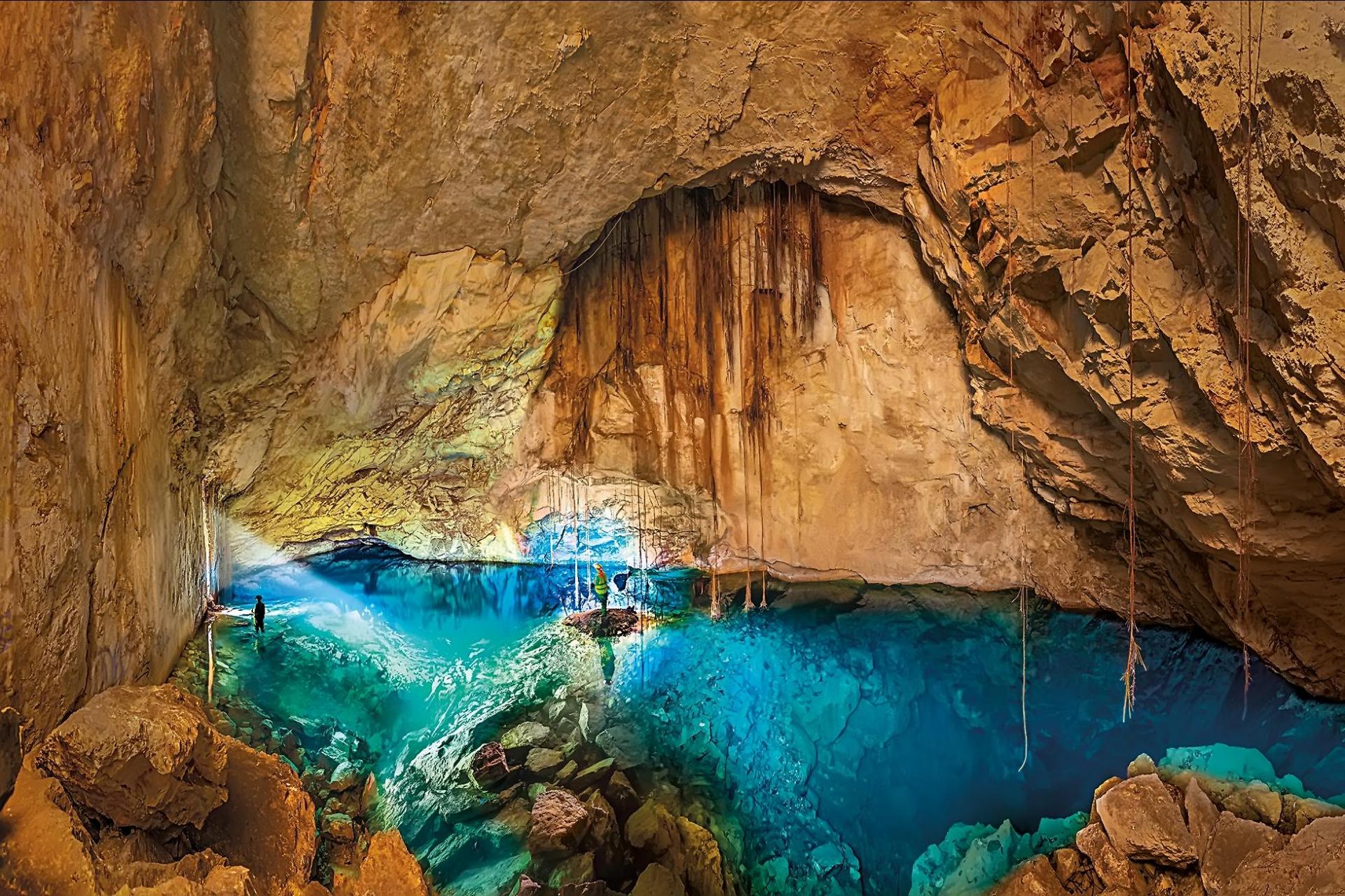 Photographer Daniel Cilia explores Malta's water reservoirs for new book. Daniel Cilia waded through toxic sewers and scuba-dived into water reservoirs for a new book, 8000 Years of Water. He tells Daniel Tihn the stories behind six photographs that show a side of Malta never seen before.
Tas-Silġ reservoir, Marsaxlokk
"This had never been photographed before," Daniel Cilia said about his venture into the Tas-Silġ reservoir. Although the site had been scanned by a floating drone while the reservoir was full of water, "nobody had actually gone down there".
Cilia and his partner Louise Calleja – who helped with many of the book's photographs – had to be lowered by crane into the dry reservoir along with all the heavy and expensive equipment. "That gives you that kind of excitement. You say, 'Oh my God, I'm somewhere where nobody's been for a lot of years." The photo had to be taken during the summer months as the hot period left the reservoir dry and, therefore, explorable. "Some places you would like to have some water, but in some others, like this, it's not safe to go down there with water because there could be holes. In fact, in many places we used walking sticks so, if there's a hole, you can feel it before you put your foot."
Għar Ħarq Ħammiem, St Julian's
"The challenge in Għar Ħarq Ħammiem was to light up the whole cave, which is above water, but also light up underwater in one photograph," Cilia said. In Għar Ħarq Ħammiem, this meant first finding a vantage point on rocks that fell "thousands of years ago, if not millions." With the tripod set up, Cilia set about lighting the cave, a problem with two solutions. He could either take a series of photos, lighting each one accordingly and then stitch them together into a 180° panorama, or he could take a single shot with a long exposure time and go around the cave with a torch to light everything.
Cilia went for the first option, taking a panorama made up of eight photographs, which meant that the photo could be captured without using a fisheye lens, a lens "I personally hate," he said. This lens distorts light to capture a wider image at the price of an alien look, bending the edges to create a rounded aesthetic. "The result is very unnatural, it's something we never get to see with our own eyes. I like doing photography which is like if you are standing in the place where I am so people see the same thing that I'm seeing". To show the scale of the cave, he placed people in the image so that viewers could "realise immediately the size of the place."
Fort St Elmo, Valletta
One of "the most amazing experiences" the photography couple had was when they were taken down into an extremely large reservoir under Fort St Elmo in Valletta, lit only by tiny holes in the roof. "When I saw it for the first time, I was like: 'How am I going to light this?'" The answer: an inflatable kayak. Cilia, like in a few other photos in the book, took the kayak into the reservoir for a "reconnaissance" to figure out how to light the photo and check if there are any issues such as oxygen levels.
In the book, however, the photos look extremely well-lit which does not convey the reality of how dark the capital's cavern was. "To go with a kayak and you hear the echo of the water, you have a depth of about five metres under you, you look up and see these wonderful, vaulted roofs that the knights built… it's an experience in itself." One of the many hidden and unexplored gems in the book, few know of the historical structure's existence. "I had photographed Fort St Elmo many times, but I had never seen this place before."
Fort Madliena, Swieqi
Now a headquarters for the St John Rescue Corps, the newly-restored Fort Madliena was a unique experience for Cilia. He had wanted to photograph the reservoir for months but was denied access due to silt leading to possible injuries. The opportunity arose, but with terrible timing. His partner was in hospital undergoing surgery when Cilia received a call from the Rescue Corps telling him that rain had shifted some silt to allow for a quick photograph. As the book was days away from being printed, Cilia decided to grasp the chance for a once-in-a-lifetime opportunity. "At the end of the day, Louise is in the operating theatre, she's not going to know whether I'm out here or not so I ran home, got the equipment […] and went there, did the photograph, got it into the book, went back to the hospital in time, and by the time Louise came up I said: 'I wasn't here all the time!' "It's one of those stories that I'll remember for all my life."
Drainage tunnel, Fgura
Photographing drainage tunnels introduced more problems to the ever-growing list, Cilia said as he and Calleja had to wear goggles, oxygen canisters and special suits to avoid toxic gasses. "There is, obviously, the smell which is connected to any kind of drainage, but because of that smell you end up not smelling the gas that is very dangerous. "It knocks you out and you are dead within minutes" – a scenario that sadly played out some 22 years ago when three public works department employees succumbed to the poisonous gas.
An experienced scuba diver, Cilia knew how to use the oxygen tanks as the couple explored the waste-filled catacombs with closed masks. "You are actually walking in sh**, but you don't smell anything because you are taking oxygen," he said.
Nigret, Żurrieq
One of the stunning photographs in the book was taken with a smartphone, chosen because it is waterproof and easily portable while diving. The shot shows the Nigret drinking water reservoir which is near a playing field so wind tends to carry a lot of rubbish into it. When this happens, a scuba diver is asked to plunge into the fresh pool to clean it up and on one occasion, Cilia joined to observe from behind the lens. Before going in, Cilia had to clean himself thoroughly as the water is drinkable.
Also a panoramic, five photos were stitched together vertically to include the diver deep in the reservoir's water while simultaneously showing off the ceiling's architecture. "It was quite an experience."
Article credits: https://timesofmalta.com/articles/view/underground-malta-never-seen.1006057