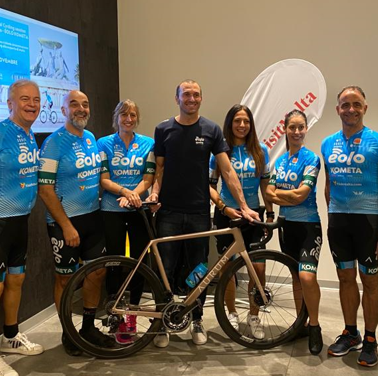 Colours of Malta is happy to share another exciting event organised in Milan, Italy, in collaboration with Visit Malta Italia.
A handful of  Milan Incentive Houses were invited to participate in an exclusive motivational lesson, where together with the exceptional sports personality – Ivan Basso, former professional cyclist, now manager of the Eolo-Kometa team – guests had the opportunity to discover some tricks of the discipline by visualizing incredible routes on the destination.
The event, proudly attended by Davide Cachia allowed us to identify to our guests how sports is a strongpoint in Malta and through this, guests learnt about biking routes around the Maltese Archipelago.
VisitMalta recently started a partnership with Eolo-Kometa Cycling Team precisely to ensure that the tourism sector, in its versatility, continues to grow in strength and quality, diversifying the product and the various niches that that can be offered, especially Sports Tourism, that is gaining popularity on the Maltese Islands.
The event took place in Milan at Virgin Active Collection Milano Cavour.