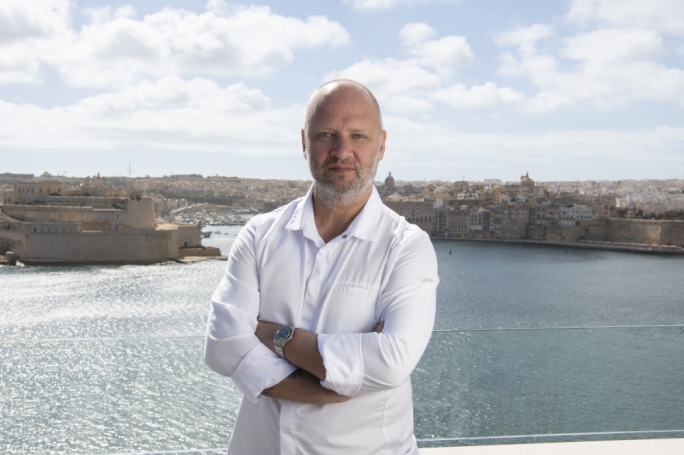 From today the 15th March 2023, ION Harbour in Valletta will welcome the internationally-renowned and multi award-winning chef Simon Rogan as Chef Patron, becoming ION Harbour by Simon Rogan. Rogan has a total of eight other restaurants to his name across the UK and Hong Kong, including L'Enclume in the Lake District which currently holds three Michelin stars, five AA Rosettes and is the number one listed restaurant in the Good Food Guide. In 2021, his efforts towards sustainability were also recognised with the newly introduced Michelin Green Star, awarded to both L'Enclume and Roganic Hong Kong.
Simon Rogan comments "When presented with the opportunity to take on ION Harbour, there was no question that this was the perfect spot for our next restaurant opening. My love for Malta, its history and climate, people and not least its ingredients and producers were all part of our decision to open ION Harbour by Simon Rogan, where we look forward to creating dishes that are inspired by our signature style whilst using the best of the Maltese larder."
As one of the pioneers of the farm-to-table movement, British chef Simon Rogan's menus are strongly guided by hyperlocal ingredients that are harvested, fished and foraged by the best and most sustainable local producers. Simon and his team have already begun exploring what the island has to offer and the menus at ION Harbour will utilise ingredients in their prime, so that each dish can champion the abundant produce found in the Maltese countryside and in the island's Mediterranean waters.
To complement the menu, the sommelier team at ION Harbour has created both alcoholic and non-alcoholic pairings. Like the menus, the unique drinks list highlights sustainable producers and lesser-known ingredients sourced from the island. In a bid to minimise waste, the bar team work with the chefs to utilise surplus ingredients from the kitchens that would usually go to waste, such as peels, stalks and stems.
ION Harbour, which was previously helmed by Chef Alex Dilling, is situated on the rooftop of 5 star luxury Hotel Iniala Harbour House and offers unrivalled views of the UNESCO Grand Harbour. The restaurant's Front of House team will be led by restaurant manager, James Christie as well as assistant food & beverage director, Melissa Sambugaro. In the kitchen, executive chef Oli Marlow, who has amassed over six years working alongside Simon, will be joined by head chef Eoin Smith.
ION Harbour owner Mark Weingard quoted: "I am really looking forward to working with Simon Rogan and his team and undertaking this exciting journey together. I know that Simon, Oli and our chefs have created an amazing seasonal menu which celebrates our wealth of local farmers, fishermen, growers and producers."