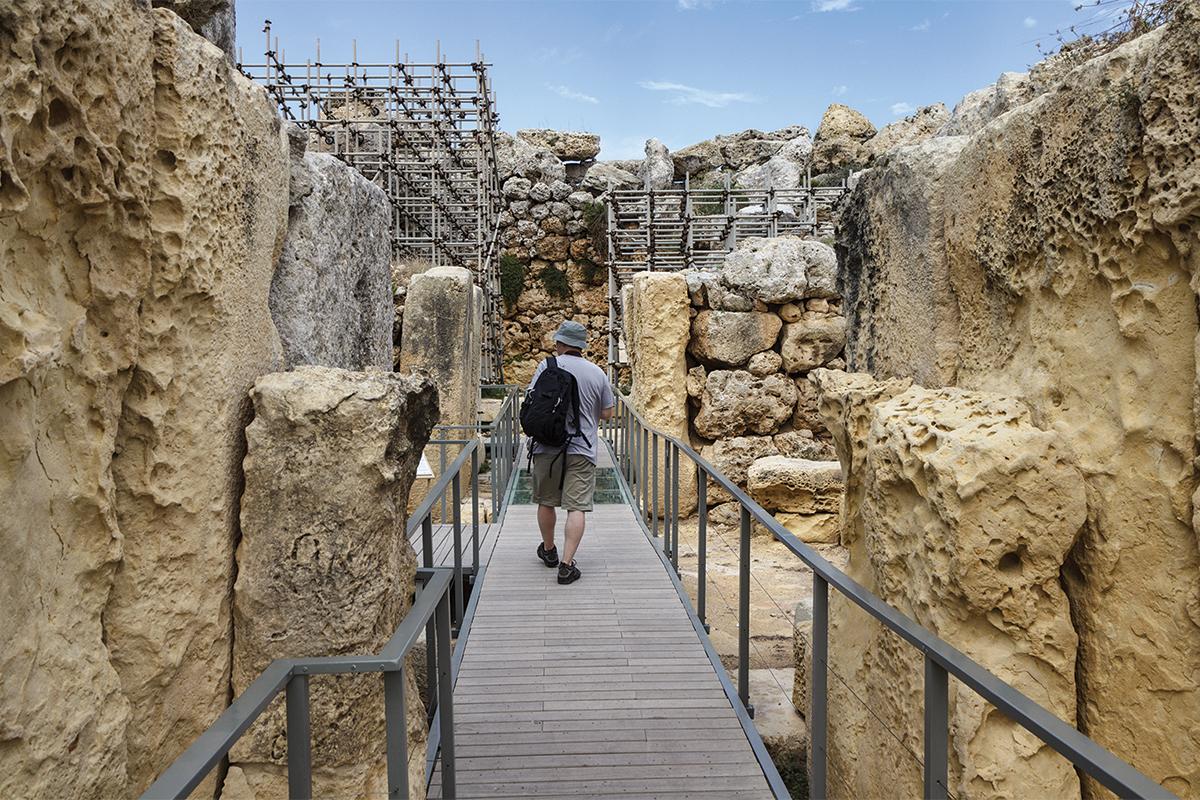 Judging by its size you'd be surprised to learn about the astounding amount of historical places in Malta and Gozo. The islands are dotted with historical sites dating back to 3000 B.C and centuries later, new, historical sites are still being unearthed.
Malta's a melting pot of cultural histories. Its layered history begins with prehistoric settlers from Sicily who arrived around 5200BC up to the British who were the last to rule before the islands gained independence in 1974. The Greeks, Phoenicians, Carthaginians, Romans, Byzantines and the Turks are amongst those who left their mark on Malta along the years. And the result? A unique culture and lifestyle that brings together aspects from Italy, North Africa and England.
Many visitors add Malta to their bucket list precisely because of its fascinating history.
Megalithic Temples
Malta's megalithic temples are prehistoric monumental buildings that are amongst the earliest free-standing stone buildings in the world – even older than the pyramids.
1. Hagar Qim and Mnajdra Temples
Amongst the many megalithic sites on the main island of Malta, the most notable temples are Ħaġar Qim and Mnajdra which are next to one another in Qrendi in the south. Apart from being a remarkable site in themselves, the natural surrounds and cliffside views are spectacular. You can easily understand why prehistoric settlers choose this place to call home.
2. Ggantija Temples
The most documented megalithic temple is found on the smaller island of Gozo. Ggantija temples are a world heritage site and date from around 3600 to 3200 BF. This site consists of two temples and the surrounding grounds are enclosed in a massive boundary wall.
Underground Wonders

3. Ħal-Salfieni Hypogeum
Shrouded in mystery, this UNESCO World Heritage site is an underground prehistoric sanctuary and burial site; the only one of its kind in Europe. The catacomb chambers at the Hypgoeum are remarkably well preserved, with red ochre paintings and carvings on the walls. There are many legends and theories about the existence of this site but it's best to visit and listen to the audiotapes or join a guided tour. Due to limited daily visitors, it's best to book this site months in advance.
4. Għar Dalam (Birżebbuġa)
A visit here during your trip to Malta will take you back to where it all began. With evidence of human habitation dating back more than 7,400 years, Għar Dalam gave evidence of the earliest human settlement on Malta. It also contained fossilised bones of extinct creatures like dwarf elephants, hippos, micro-mammals and birds. It is said that these remains are from animals that lived here back when Malta and Sicily were still connected by land.
5. Ta Bistra Catacombs (Mosta) & St. Paul's Catacombs (Rabat)
If you'd like to discover some of the island's underground connection, make it a point to visit these catacombs. The two sites are a complex of interconnected, underground Roman cemeteries which represent the earliest evidence of Christianity in Malta.
Forts and Towers

6. The Silent City – Mdina (Malta)
Mdina, also known as the silent city, is a fortified city perched on top of a hill. With a story that traces back to over 4000 years ago, Mdina has witnessed many different stages of history of Malta. With each colonizer came different uses of the city as well as renovations. Today it's one of the most visited place by tourists as well as being close to the hearts of locals. Apart from the museums and craft shops, it's known for having the best chocolate cake on the island as well as some delicious ice-cream. Plan an afternoon stroll here and stay until dusk.
7. Ċitadella (Gozo)
Citadella is an iconic landmark in Gozo. Just like Mdina, it is a fortified city on one of the highest positions of the island. And due to Gozo's small size it's visible from anywhere in Gozo. It's light design make it particularly stunning during the night time. Citadella was built in 1500 BC with many additions over the years, and just like Mdina it's passed through many of the island's colonizers. Plan a visit here around sunset for a magical feel. Have a drink at a winebar, take in the views and enjoy the silence.
8. The Red Tower (Mellieha)
It's official name is Saint Agatha's Tower and it was built as a watchtower between 1647 and 1649 and manned during both wars. The fort is unique in it's castle-like structure. The tower is open to visitors and inside you can see the original floor and walls. From on top of the tower you can see stunning views of Malta, Gozo and Comino.