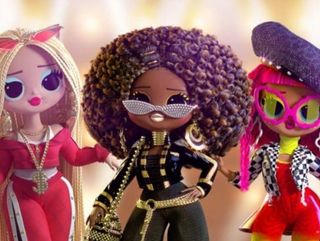 VisitMalta and Carter Entertainment are proud to announce an exciting collaboration to bring the first-ever LIVE show of the L.O.L Surprise! Dolls to the UK and to Malta!
Introducing L.O.L. Surprise! LIVE VIP Party in collaboration with VisitMalta – the multi-city UK national and Malta tour is set to remix the vibes of a club, feature the best ever beats & latest songs from the upcoming L.O.L. Surprise! movie, never-before-seen dance moves and the ultimate instagrammable sets.
After kicking off in Sheffield last week, everyone's favourite L.O.L. Dolls arrived in London, as a host of famous faces descended to The SSE Arena, Wembley, for a night of glitz and glamour. Ferne McCann, Fearne Cotton, and more attended London's opening night of the highly anticipated L.O.L. Surprise! LIVE VIP Party in collaboration with VisitMalta hosted by Lady Diva, Royal Bee, Swag, Neonlicious and many more.
Speaking at a press event before the first Wembley Show, via a video message, Malta's Minister for Tourism and Consumer Protection, Clayton Bartolo said "Having VisitMalta as an official destination partner with LOL Surprise, one of the biggest worldwide brands when it comes to children's entertainment is an exciting journey that we shall embark on together. This partnership shall be an opportunity to promote the Maltese islands as a family tourism destination directly with the target audience itself – as the show will be watched by hundreds of thousands of families across the United Kingdom. Moreover, this will make our country appealing to tourists will who be choosing Malta to travel alongside their families over the Easter holidays."
Mr Johann Buttigieg, VisitMalta CEO, said that "we are really looking forward to seeing this partnership come to fruition, as it forms an intrinsic part of VisitMalta's commitment to ensure that Malta cements itself as the safe family destination where families with children of all ages can enjoy great weather, beautiful beaches, an abundance of history, and some of the best food, with this exciting show by the L.O.L. Surprise! Dolls being the ultimate cherry on the cake. We are also proud to be supporting the UK tour of this show, which for us makes perfect sense, with the UK being our biggest and most important tourist market."
L.O.L. Surprise! LIVE VIP Party in collaboration with VisitMalta will perform at the Malta Fairs and Conventions Centre, from the 5th to 17th April 2022, and tickets are available at www.visitmalta.com. Show times and days vary.
Samantha Wilson, Marketing Director for L.O.L. Surprise! UKTM said: "We're delighted to be bringing our L.O.L. Surprise! Dolls to the stage for the first time in the UK and in Malta. It's such an exciting moment for us. We always love an opportunity to surprise fans, so the opportunity to work with Carter Entertainment on this brand-new show was one we couldn't turn down. It's going to be a show like no other, with bubbles, projections, confetti and even holograms. We can't wait to see our fans interacting and dancing with their favourite dolls. We have no doubt it will be a moment they'll never forget!"
Tony Worgan and Adam Carr, Co-Founders of Carter Entertainment said: We can't wait for the UK and Malta to experience L.O.L. Surprise! LIVE VIP Party, and we're delighted to have VisitMalta as the official destination sponsor. The show is so much more than a family experience, it's a concert and dance party all rolled into one. Throughout the 90-minute show there will be creative sets, brand new choreography and everything from projections to confetti blasts. We knew we wanted to take the show to the next level and surprise fans, which is why it's exciting to be the first UK family show to include holograms. We look forward to UK families coming together to see the show for the first time in November. The same goes for all the families in Malta next April!"