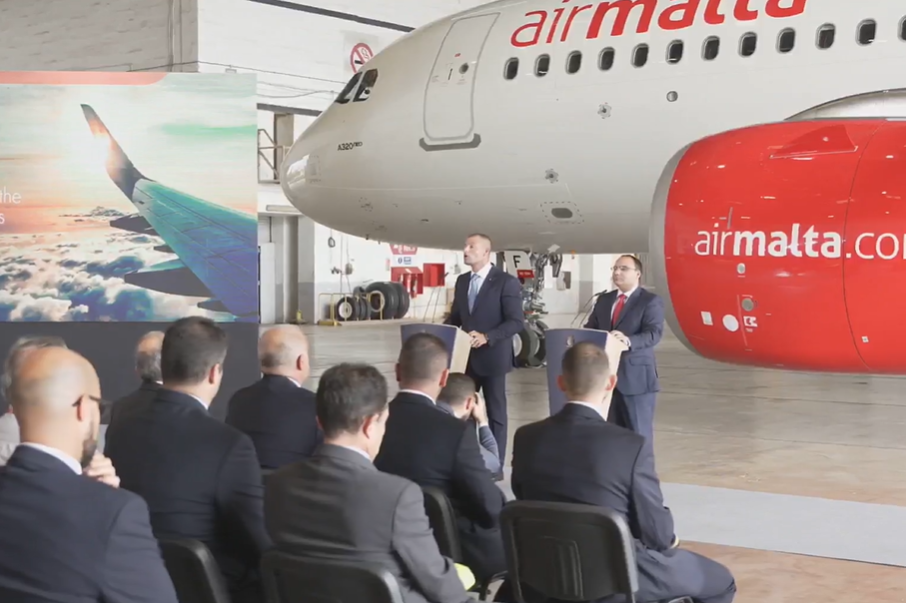 The "new" airline which will replace Air Malta has officially been announced… and it's bringing with it a number of changes.
The new airline will operate 17 routes instead of 37 and use eight planes instead of 10, but this time round, it's all about the company actually registering a profit.
Three of the airline's Airbus 320NEOs aircrafts will be brand new, bought directly from Airbus and owned by the new company.
Total employees within the company, meanwhile, went from just under 1,400 in 2010 to less than 400 this year.
As part of the revamped structure within the new airline, a series of cost cutting (also down to a smaller workforce) will see the airline's wage costs go from a spend of €48 million to less than half of that, €22 million.
With Brussels turning down the Maltese government's request for a €290-million State aid injection into the struggling Air Malta, the islands instead opted for a model which was used by neighbouring Italy, who recently replaced Alitalia with ITA. In fact, the European Commission gave Malta three years to run this… after which time a business partner needs to be allowed in so that it's not state-funded.
Everything from aircraft maintenance to direct flying costs will be reduced, with a substantial change in the airline's business model aimed at registering that long-sought-after profit margin.
Designing "the most commercially efficient network", the new airline has also increased frequencies to existing routes like Rome, Munich, Paris (CDG), Zurich and Vienna… but other routes are now not on the roster.
Palermo, Naples, Nice, Geneva, Lisbon and Tel Aviv are the six routes which have been cancelled.
The remaining routes are now Amsterdam, Berlin, Brussels, Catania, Dusseldorf, London Gatwick, London Heathrow, Lyon, Madrid, Milan, Munich, Paris CDG, Paris Orly, Prague, Rome, Vienna and Zurich.
With a workforce of 375 employees, the airline's new €350 million investment (and €90 million for staff and pilots) also includes the acquisition of the London Heathrow and Gatwick slots from Med-Air.
By the third year of operations (2026/7), Copenhagen will also be added as a route.
Air Malta's final flight will be on 30th March 2024, with the new airline's first flights leaving the following day.
As of November 2023, Air Malta customers can apply for refund of tickets post 30th March 2024, with a recruitment process of the new airline kicking off in December.
On 1st December 2023, the new airline will start receiving bookings.
As for Air Malta's current pilots, these will have four years to decide if they want to leave and not be a part of the new airline… but if they do, they won't be able to ever join again.
As part of a clause in their contracts, the pilots will be given these four years to decide if they want a sum payment as part of their departure. If they do choose this, they won't be able to work as pilots with the new airline, or Med-Air, ever again. A six-year "ban" from working within the public sector will also apply.